Ground Improvement
Fairfield Regional Fire School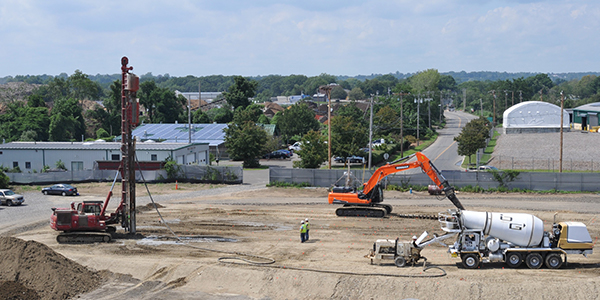 Installing aggregate pier ground improvement on a floodplain
Subsurface Constructors, as part of the Consigli Construction Design-Build team, recently completed ground improvement for a new regional fire training facility in Fairfield, Connecticut.
The new school will replace the post World War II era facility that was formerly a Nike missile site. It includes a 9,500-square-foot classroom building, 40,000-gallon drafting pit, a 5,600-square-foot support facility and a three-story 3,200-square-foot "burn" building. Municipalities from Connecticut, Massachusetts, Rhode Island, New Jersey and New York will utilize this state-of-the-art training site.
The site is located in a flood plain about 600 feet from the ocean and has a typical soil profile consisting of 4 to 12 feet of urban fill over 1 to 4 feet of organic silts and peats — and below that is medium-dense mixtures of sand, silt and gravel. The ground improvement consists of installing approximately 575 vbro stone columns consisting of highly compacted ¾-inch aggregate below the floor slabs and a combination of a grout column through the organic zone with highly compacted ¾-inch aggregate above the grout below the footings.