Ground Improvement
Sheboygan Police Station construction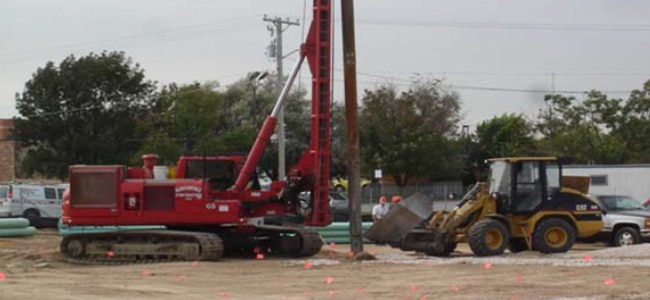 Cost-effective ground improvement on a rapid schedule
In 2008, the City of Sheboygan, Wisconsin set out to repurpose a closed and covered landfill to build a new police headquarters. The project came with challenges.
Located just off of Lake Michigan, it involved the construction of a new, 32,000-square-foot, two-story structure with an attached parking garage. Soils at the site consisted of fill overlying firm to stiff silty clay, with trace amounts of sand and gravel. The geotechnical investigation also indicated the possibility of peat or buried topsoil in isolated areas.
The foundation design for this structure required that all footings and floor slabs be treated with aggregate piers to develop a post-treatment bearing capacity of 4,500 pounds per square foot. Subsurface Constructors designed the ground improvement layout and constructed a total of 734 aggregate piers/vibro stone columns without the need to pre-drill or pre-loosen existing soils. Our approach saved the general contractor considerable time and money in spoil removal.
We installed the aggregate piers/stone columns to depths ranging from 10 to 18 feet, and we delivered the entire ground improvement program in less than three weeks. Following the project, our team performed modulus tests and demonstrated that the stone columns exceeded the design parameters.